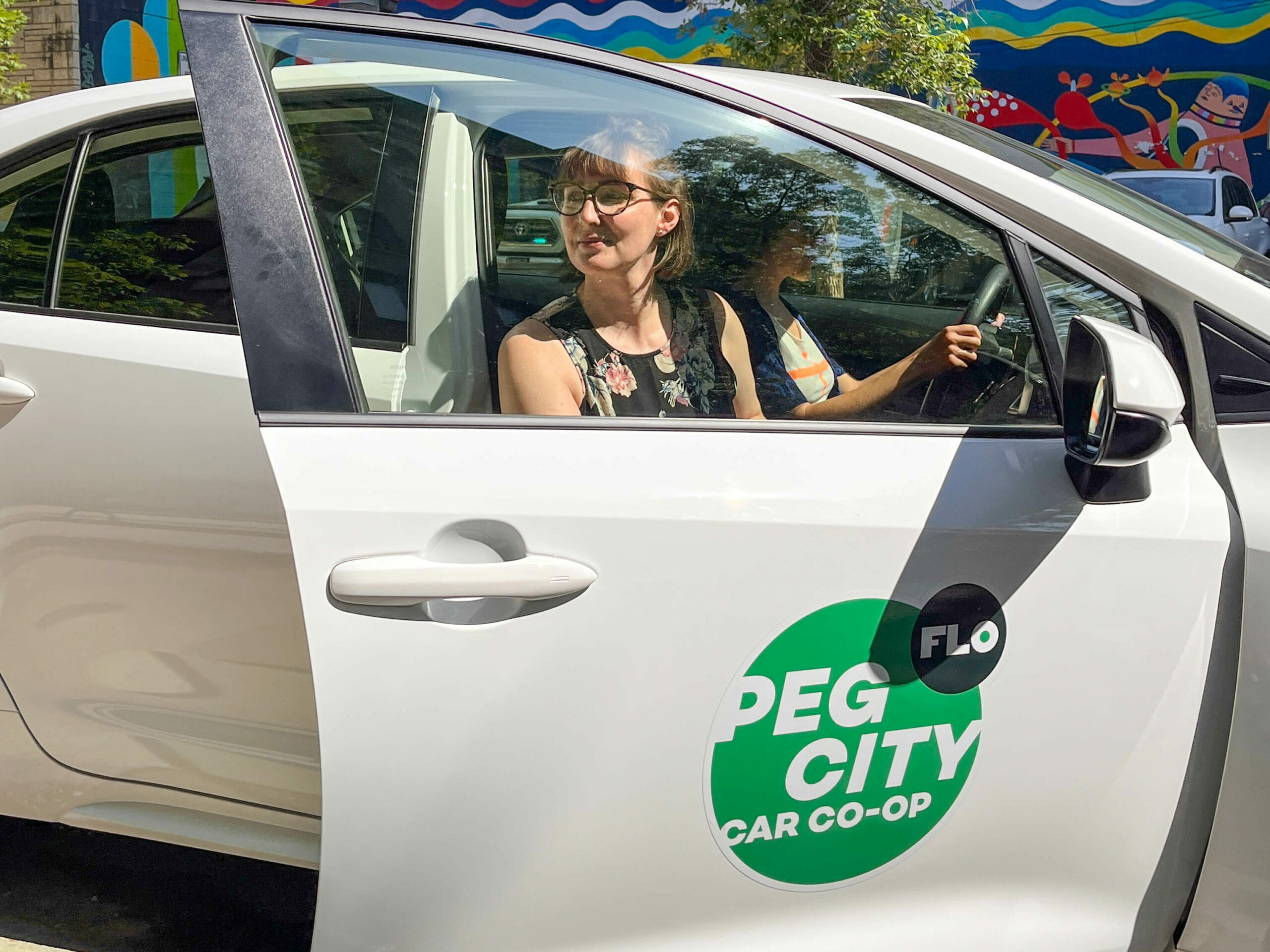 Free-floating carsharing has arrived at Peg City! These hatchbacks and hybrid electric sedans are ready for you any time you need a car – and fast! FLO cars work differently from our existing round-trip or FIX vehicles. We're here to show you how to FLO.
One of the most important things we want to highlight is that ending your booking with FLO differs slightly from FIX. With FIX, your booking ends at the time you set when you made a booking. But with FLO, you end your booking by parking in the FLO Zone, plugging the keys into the glove box holder, and using the app or Peg City fob to secure the car. This is why taking the vehicle keys from their spot in the glove box is extra important when using a FLO vehicle. Keep those keys with you until you're ready to end your booking!
How To Book FLO
When you open the app, you'll see the map view, including the FLO Zone, in light yellow. You'll notice two tabs at the bottom – one for searching round-trip vehicles and one for one-way FLO trips. Select the FLO tab and click Find vehicle from there.
The map will populate with available FLO cars in bold yellow. The car's exact location will be displayed when you click on an available FLO car. You'll also notice a walking itinerary from your current location.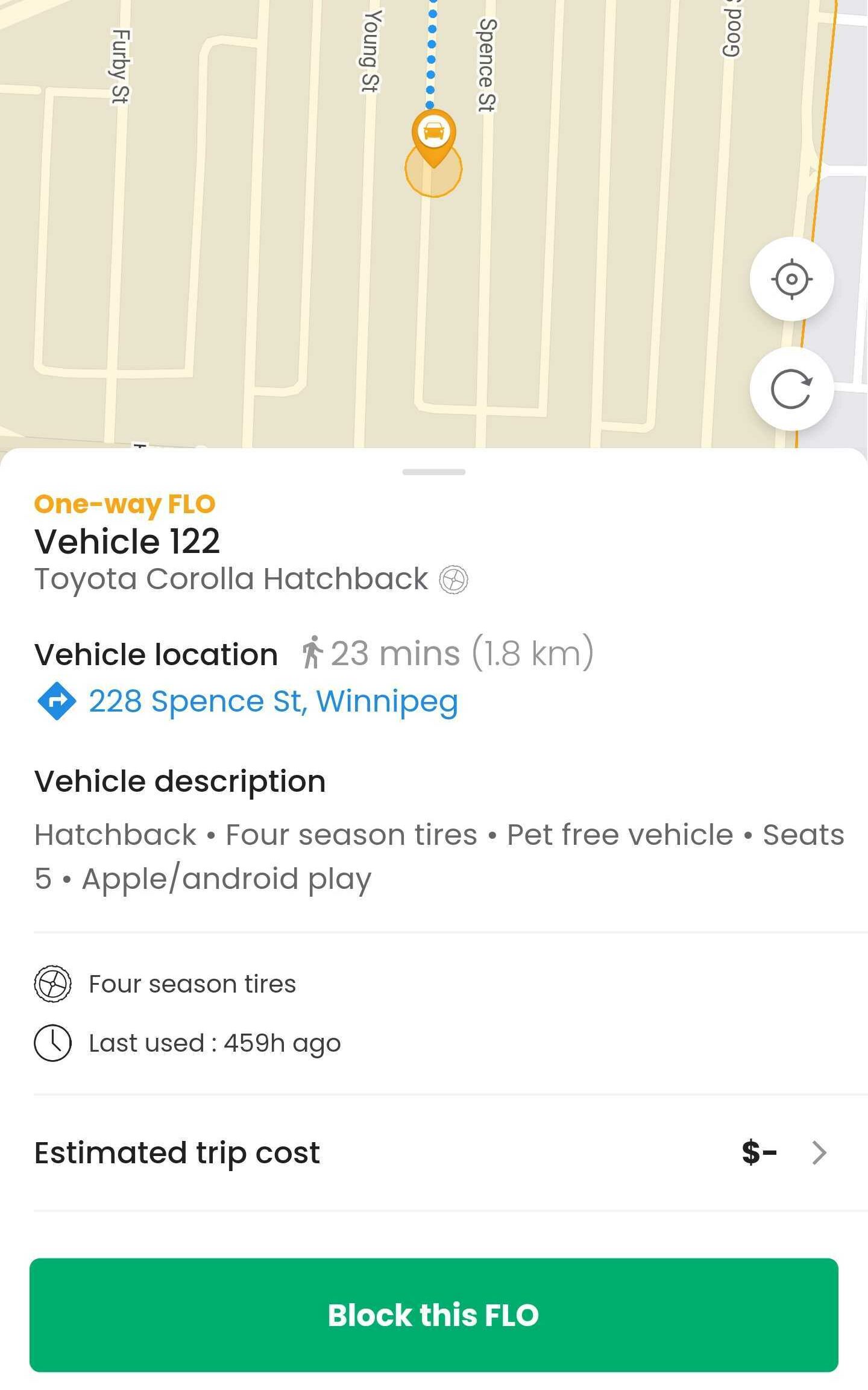 When you've found the car you want, click Block this FLO. You now have 30 minutes to travel to your car and begin driving.
If you notice a FLO car on the street and want to hop in, pull up the app to make sure it's free, then block it out and unlock the car from there.
Please note that our FLO cars are all pet-free hatchbacks or sedans. If you need to take your kids and all their friends to the beach, haul your bike or a two-by-four, or take Fido to the vet, book FIX!
How To Use FLO
From the time you put a hold on a FLO car, you have thirty minutes to get to the vehicle.
Once there, use the app or Peg City fob to open the car and begin your booking. Again, it's super important that you grab the vehicle keys from the holder in the glove box. Take these keys with you and use them to lock and unlock the doors in the course of your FLO booking.
With FLO, you can drive where you need for as little or as long as you need. FLO cars are great for quick A to B trips in the FLO Zone. Since these bookings don't have a predetermined end time, they're also perfect for those errand runs when you just can't be sure how long you'll need!
Whether you're driving for just a few minutes or for days or even a week or two, you're welcome to leave the FLO Zone and drive where you need to during your FLO booking.
When you're ready to release a FLO car, park it on any public street within our designated FLO Zone or a Drop-Off Point, plug the keys back into their spot in the glove box holder, then use the Peg City App or fob to secure the car. You'll be able to view the FLO Zone and Drop-Offs in the app, and we've got a complete FLO parking guide for you here.
One last time, when you fob out or use the app to secure a FLO car with the keys inserted in the glove box holder, you end your booking and free the car for the next member, so keep those keys with you until you're ready to release the car!
Special Rates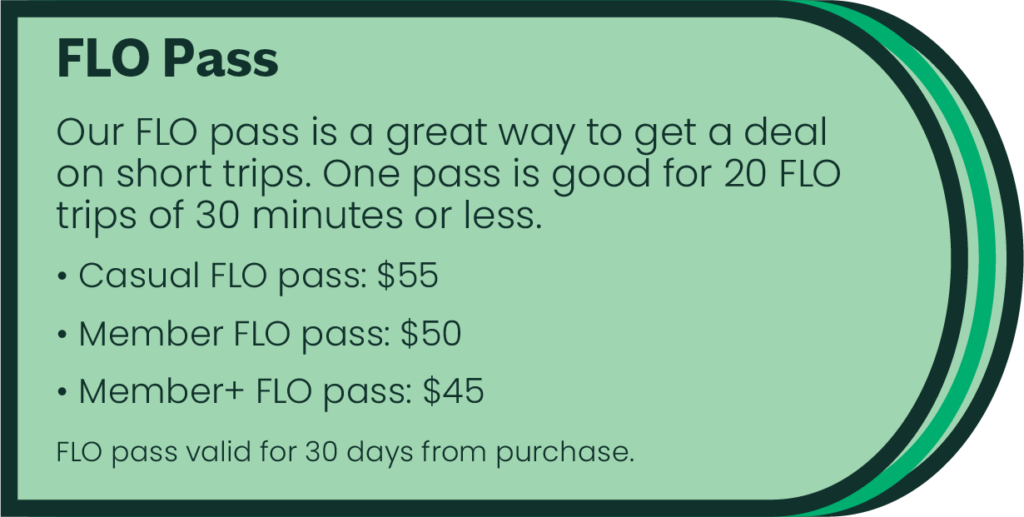 Finally, we're introducing our FLO Pass to save members money on quick trips.
You can purchase a FLO Pass through the app or desktop site. One pass is good for 20 FLO trips of thirty minutes or less. That adds up to ten hours and 1,000 kilometres of driving for as little as $45! If you wind up using the car longer, the pass covers the first 30 minutes and 50km of your FLO booking, but regular FLO rates apply after the 31st minute and 51st km.
Each FLO Pass is valid for 30 days, and you're free to buy all you need. If you frequently find yourself needing a car for a quick trip, these savings are made just for you!
We hope you enjoy going with the FLO on June 7!
Any questions? Check our FLO FAQ, and previous communications about rates, send us an email or give us a call.