KNOWLEDGE CENTRE
INFRACTIONS, DAMAGE, AND INSURANCE
Welcome to our carsharing community.
In this orientation, you'll learn the basics about carsharing with Peg City.
We recommend that all our members read through the Member Manual for a full understanding of the rules and responsibilities of carsharing. Orientation videos are coming soon!
Please read through the full Member Manual and watch the video tutorial at the end of this orientation.
INFRACTIONS, DAMAGE, AND INSURANCE
We have three insurance options: Basic, Damage Pool, and CLDI. Here's a handy table that shows you the different options with associated fees.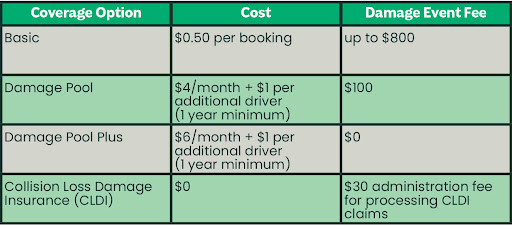 Fees and Invoicing
If you're on the Member Plan, you are billed monthly. Members are welcome to pay via e-transfer, cheque, or credit card. If you happen to bank at a credit union, you can also send us electronic bill payments. You'll get one invoice monthly, and accounts have a credit limit of $1000. You may need to make a prepayment if you exceed the $1000 limit before a billing cycle is processed and paid. Think of a credit limit like a credit card. If you splurge before your credit card statement due date, you need to pay down your account to make more purchases!
Casual users are billed on a pay-as-you-drive basis.
The Casual account balance limit is $200, which includes any future bookings you have made. If you exceed the limit before an automatic payment is processed, you may need to make a payment before you're able to create another booking. You can load driving credit onto your account ahead of time by making a payment by credit card, e-transfer (sent to [email protected]), or cheque.
If you want to get into the nitty gritty on damage, rates, miscellaneous fees, and much more, check out our Member Manual!