Meet our friends at Art City, a community art studio dedicated to providing people of all ages with innovative and professional art programming, free of charge! We are grateful to help these folks deliver their programs across the city. Read on if you like fun. 😛
Today I am talking with Josh Ruth, the Managing Director at Art City. Art City is a community art studio dedicated to providing people of all ages with innovative and professional art programming, free of charge. You may recognize the iconic multi-wheeled bicycle on top of their West Broadway location. 
What you may not know is that Art City delivers programming to 16 different communities across Winnipeg. Not too long ago, this posed a significant problem.
You see, due to a funny bit of physics, the Art City van can only be in one location at a time. With more and more requests pouring in from communities across the city, Art City and their dedicated group of staff and volunteers needed another set of wheels. This is where Peg City Car Co-op enters the picture.
Josh: "Early on, we realized that our one Art City van would not be enough to serve all the communities asking for our services. We were seriously considering buying a second vehicle. That's when we decided to go with the Car Co-op."
As a Member on our Non-Profit+ plan, Art City has access to our entire fleet of vehicles located throughout the city. Now they are providing thousands of participants every year with affordable access to high-quality art programming!
Big Changes, Bigger imaginations
Like most organizations, the last few months have totally changed the way Art City delivered its programs. Reduced staff and social distancing restrictions meant that in-person programs were off the table.
Josh "One of the things we have maintained for a semblance of normalcy has been our monthly programming calendar. We have many participants who really follow that calendar in anticipation. We are fortunate that many of our staff have continued to volunteer their time by helping plan activities to make up the calendar."
Check out some of the great ideas posted through their Instagram:
Josh: "Another area of focus has been collecting and distributing art supplies to participants and their families. We received a lot of feedback from the community requesting supplies."
We set up Art City on our Frontline plan, which meant they could book a van for weeks at a time for just $15 a day. Here are a few of the many happy faces that received hand-delivered bundles of art supplies during the recent lock-down.
And by the way, supplies are always needed! See below for a list of items that they are currently accepting:
-Quality paper, drawing, watercolour, etc.
-Good quality mark-making tools: pencils, pens, etc.
-Sewing supplies, clean fabric, etc.
-Scissors, tape, glue, etc.
-Art paints, acrylic paint, watercolour paint etc.
-Beading supplies, jewellery making supplies
The Annual Art City Fundraising Party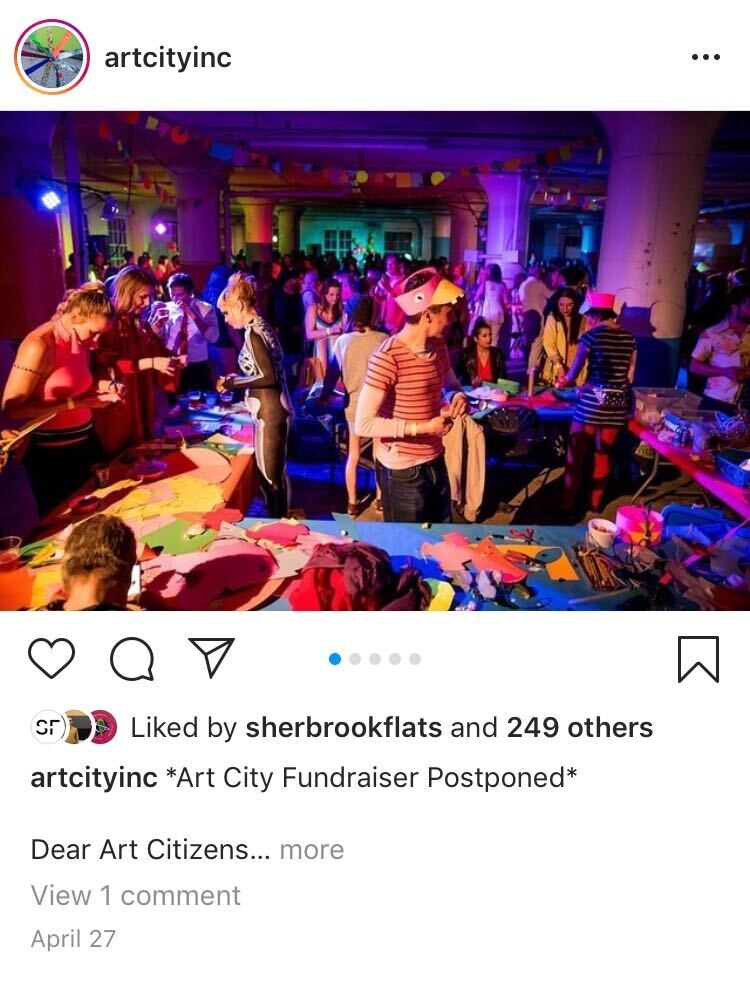 Like so many other charities, Art City has had to cancel it's widely anticipated annual fundraising party. Thel party is one of the most significant fundraising events of the year for the organization.
There are many ways to support Art City. Cash donations make the biggest impact. If you were considering buying a ticket the big party, please consider making a contribution. Other ways to help include buying merchandise from their website and donating art supplies (see the list above).
There is still more to come in the next few months as they begin planning open air programs for the summer months.
Josh: "We are encouraging everyone to save or document art they are making for a future exhibition called "We Made It!" When we can gather again, we will be able to see each other's experiences through our artistic expressions."
Until then, the team will focus on providing the services they can, including upcoming outdoor open-air programming coming soon!
Josh: "The Art City staff are an incredibly dedicated team of practicing artists. They have been amazing, showing up to weekly brainstorms and check-ins and even volunteering to help us deliver services remotely."