KNOWLEDGE CENTRE
MAKING AND MODIFYING A BOOKING
Welcome to our carsharing community.
In this orientation, you'll learn the basics about carsharing with Peg City.
We recommend that all our members read through the Member Manual for a full understanding of the rules and responsibilities of carsharing. Orientation videos are coming soon!
Please read through the full Member Manual and watch the video tutorial at the end of this orientation.
Once we've confirmed you've met the eligibility requirements, you'll be formally approved to become a member of Peg City Car Co-op. These requirements include purchasing the minimum number of membership shares as set out in the Rate Sheet (if you chose a Member Plan). Your shares are important! Not only do they give you access to book our vehicles, but they also represent your part-ownership in the co-op, plus they provide you with a number of privileges and perks!
FIX
To use a FIX vehicle, you need to book online for a minimum of one hour — additional time can be booked in 15-minute increments. Current rates are available on our website.
Booking a car is pretty simple:
You can make a booking on our app or the desktop site. Login with your member number or email address and the password you set when creating your account.
Once you're in, select the reserve icon and follow these four easy steps when bookings on the desktop site:
Choose a start and end date/time (you can view by grid or map).
Select sort order.
Pick an accessory.
Press Show available cars.
If booking on the app, follow these steps:
After logging in, click the search icon from the menu to select your preferred start and end time.
Click Find vehicle.
The map will populate with pins.
Vibrant green pins indicate cars that match your search criteria exactly.
Faded green pins are available for the time you've selected but don't have all the vehicle features you selected.
Grey pins indicate vehicles that do not match your selected time.
Click the pins for more information. When you've found the vehicle you want, click Reserve.
You can search for available vehicles based on:
Location (organized by neighbourhood)
Vehicle (ex., hatchback, hybrid, SUV, truck, etc.)
Accessories (ex., Child car seat, bike rack, etc.)
With FIX, you can book a vehicle up to six months in advance, for as little as one hour and up to four consecutive weeks.
FLO
FLO cars are there for more spontaneous trips as little as a few minutes and as long as days or weeks. You need to use the app to book a FLO car. Current rates are available on our website.
To book a FLO car:
Log into the app.
Find the FLO car nearest you on the map.
Block it out up to 30 minutes in advance.
Our FLO cars are a mix of hatchbacks and sedans, both fuel and hybrid electric. If you need more hauling power, we recommend our FIX fleet.
CHANGING OR CANCELING YOUR FIX BOOKING
If you want to make changes to the predetermined start and end time of your booking with a FIX vehicle, we try to make cancellations as flexible as possible. Here's a handy table summarizing our cancellation policy: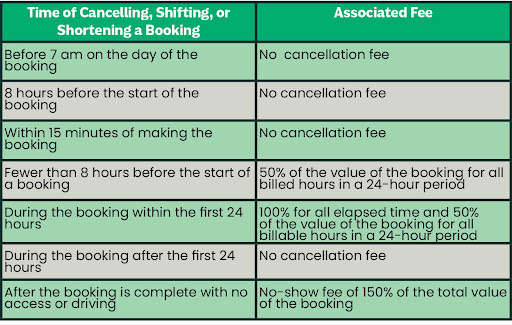 Oops! I didn't mean to book that!
If you create a booking online and cancel it within 15 minutes, there is no charge. Phew!
Memorize your member number.  If you contact us for assistance, we will need your member number to access your account.
Bookings with FLO cars have no predetermined end time, but FIX vehicle bookings do. Always book yourself a little extra time with a FIX vehicle. 15 minutes can mean the difference between being relaxed and on time or stressed and stuck with a late return fee (or worse, a speeding ticket).
Note the details of your booking. It's up to you to know which vehicle you've booked and for how long. You'll find all pertinent information in your booking confirmation email and when you pull up your booking in the app.